"You cannot put style in a box, put in the back of the closet and pull it out when it is convenient. Style has no boundaries, No limitations, it has confidence. Style is following your heart and bringing out your soul."- T. Williams
One of the great things about personal style is that it promotes freedom and expression through clothing. It's the part of your personality that defines who you are as a person. 
For this post, Jersey's finest, Tatiana, stops by UnregisteredStyle to share her transitional, winter time look. We are using Tatiana's outfit to make generalized assumptions about her life. 
 "I always feel that accessories are essential. Throw on a fedora or a hat to give your outfit a little pop. Infinity scarfs are great for the fall as well!"
 For a perfect Saturday afternoon outfit, Tatiana pairs a colorful  scarf, patterned blazer, and knee high riding boots. From her outfit, you could probably say that she is a very confident young woman, that appreciates the finer things in life. How can we assume things about Tatiana before she even opens her mouth? Easy, with a little bit of knowledge about modern trends and who wears what, we can draw conclusions based on what Tatiana is wearing.
For instance, lets further examine Tatiana's fedora. Most women that wear fedoras range between the ages of early teenage years, to late twenties. So, a fedora tells us that Tatiana is youthful in age. In addition to the fedora, wearing a crop top screams youth and confidence. Lets be honest, if you show your body, you have to have it together and Tatiana executes this well. In addition, her black leggings and knee high, leather boots scream youth as well.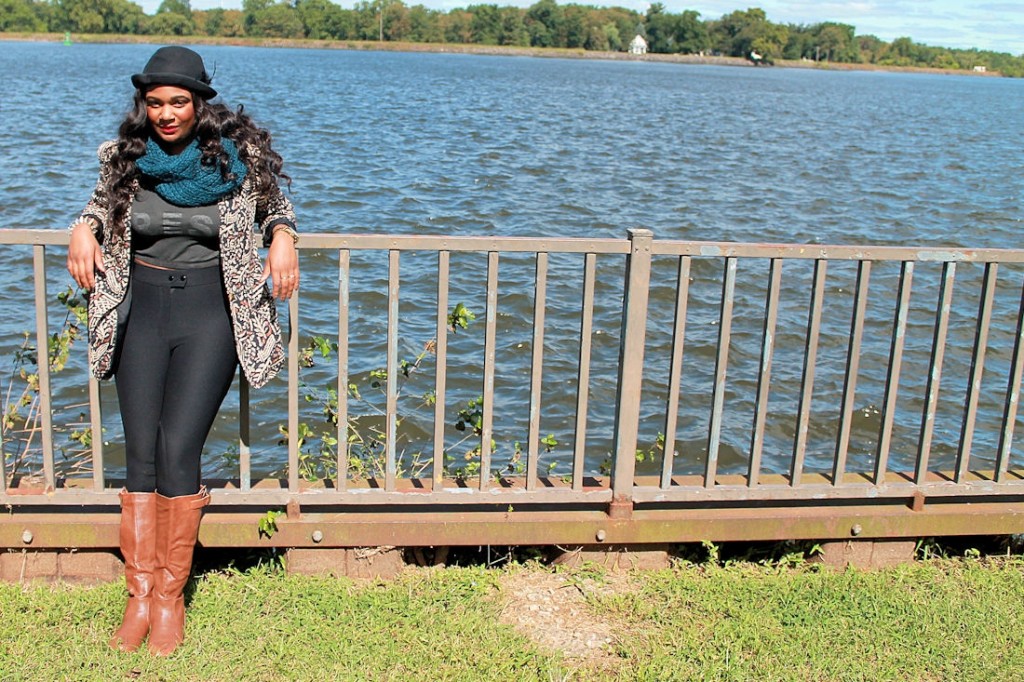 "For a great pattern in a blazer go to your local thrift store, you don't have to spend too much money on blazers, this blazer was less than $10.00. When wearing riding boots try to wear form-fitting pants so the focus can be on the boots." -Tatiana
As a lover of all things leather, we think Tatiana kills this look, adding a black crop top to give an ordinary outfit a hint of edge. Tatiana manages to be fashionable and focused as a full time student with a great sense of style.
For this look, Tatiana purchased her outfit from a variety of retail stores including the following: her hat and blazer were purchased from Forever 21; the blazer Goodwill; scarf: Cotton On; boots: Dressbarn; the riding pants from American Apparel.
Tatiana provides more looks on her Instagram page @Tgabriel789 .