"The wardrobe is always the last piece of the puzzle. When you step into the clothing, that's the final step to figuring out that character." -Mia Wasikowska
When we think of the perfect wardrobe, there are a number of garments required to build a strong foundation. According to the bloggers over at FashionBeans, a man's perfect wardrobe includes the following items: 1) White oxford shirt; 2) Navy blazer; 3) Dark denim jeans; 4) Dark neck ties; 4) Sneakers; 5) Crew neck t-shirt 6) V-neck sweater 7) Chinos 8) Leather loafers 9) Gray suit.
Not only will these items teach the basics of how to put together a stylish outfit, your wardrobe will include essential items that can be combined with other garments for a stylish upgrade.
Here is an example of how Bryce pulled clothes from his essential wardrobe to create an After 5 look. Check out his outfit below!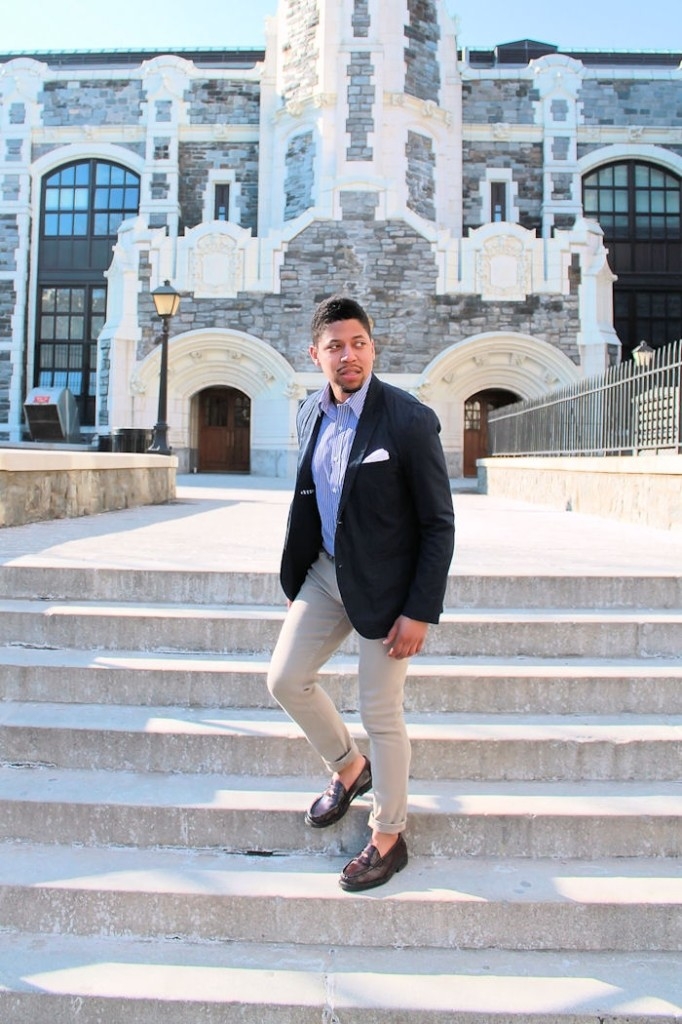 "Most of the essential wardrobe items can be worn year round. It just depends on the temperature outside. You may want to wear more or less layers depending on how you feel about the weather." -Bryce
We are not into the summer season yet. So, in regards to your essential wardrobe items, think about layers. Blazers, button-downs, sweaters, shirts, are all must have items.
More specifically, think about thin layers. You do not want thick layers! Even on the coldest days, certain garments were created specifically for winter and not for spring. We shouldn't see you walking around a thick, cotton, turtle neck sweater in the middle of April. That is not weather appropriate.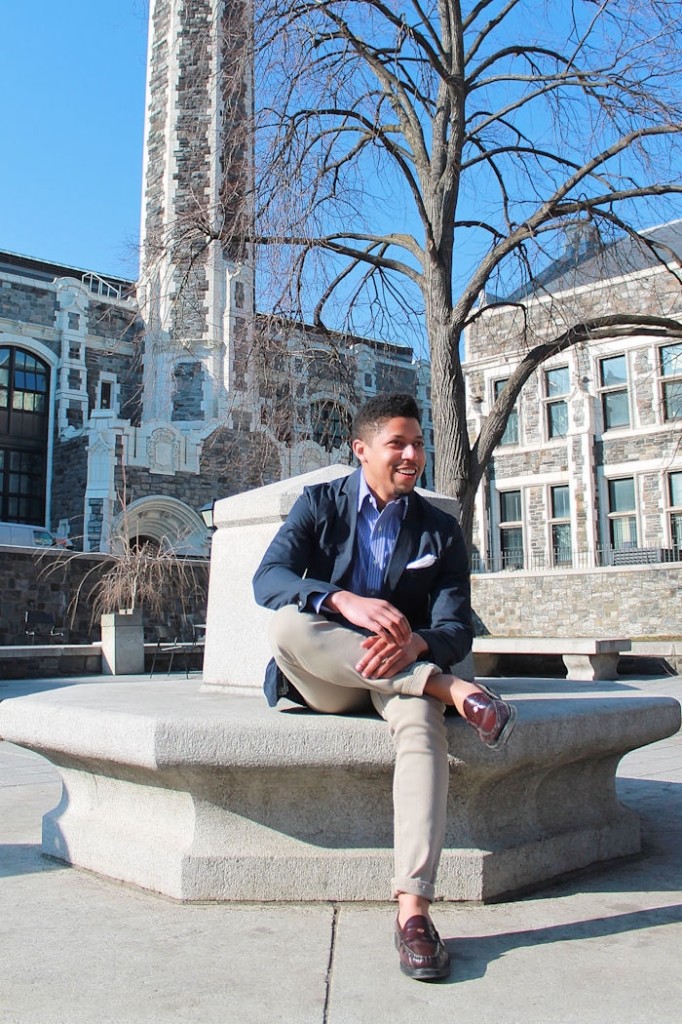 "You can never go wrong with a navy blazer. I have at least five in my closet right now. Each one is for a different occasion. I have a navy blazer I bring to work, one for a drink with the guys, and a couple for the club scene. The possibilities are endless!" -Bryce
Why is the navy blazer so "essential?" For starters, it can be worn with almost anything. You can transform one of the most casual outfits, into an After 5 masterpiece. Try pairing your navy blazer with a nice button-down, sweater, or t-shirt.
Since Bryce was going for a after work look, a tie was not required for this ensemble. However, he decided to combine his navy blazer with a white pocket square, chinos, and leather loafers. Bryce states, "Yes, I like to look sharp nine times out of ten, but comfort is more important to me."
We love Bryce's overall look. Its simple, yet stylish. We are thinking more on the "Urban Prep" side of things. In addition, he purchased his garments for dirt cheap. The blazer was purchased on sale from Gap a couple of years ago, the button-down is Ralph Lauren, the chinos are from ASOS, and the leather loafers were thrifted.
If you want more looks from Bryce, head over to his Instagram page @Karmike.