Happy Friday everyone!
This has been an amazing week for us! First off, we finally created the"Frequently Asked Questions" or F.A.Q page. This page has been work in progress for quite some time now.
Second, we have been communicating and establishing relationships with other companies to brainstorm ideas for giveaways. So, be on the look out for other updates in the near future.
Okay, so it's FEATURE FRIDAY today and we have another submission  for your viewing pleasure. This week's submission comes all the way from Miami, FL.
So without any more delays, we would like to introduce Siliza Valdez to our UnregisteredStyle family! Check out her full feature below.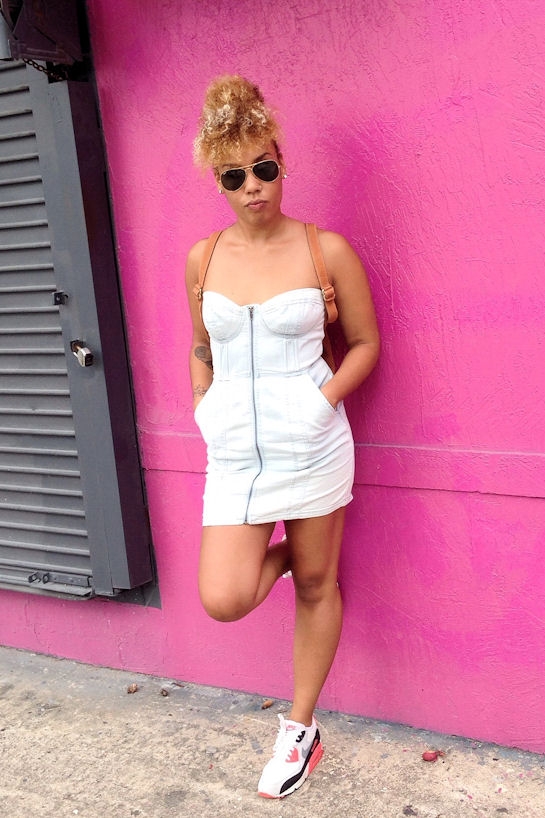 Denim Dress: Thrifted | Sneakers: Air Max 90 Infared |
Backpack: Coach | Sunglasses: Ray Ban Aviators
Unlike those of us living in the North, it;s still very warm in Miami. So, it makes sense why strapless dresses are appropriate this time of the year, especially for Siliza.
Regardless of the season, we don't have time to sweat out their favorite fall clothes just to look "cool." It shouldn't be a problem if our climate does not correspond to the current season. This is why we love fashion ladies and gents!
As mentioned above, Siliza is wearing a thrifted denim dress and we love it! The very light wash denim material is further complimented by a pair of Air Max 90 Infrared sneakers. The sneakers include a variety of subtle pink, black, and gray accent colors, which were worn to add that pop of color to Siliza's entire outfit.
Siliza finished off her outfit with a pair of Ray Ban aviators and her Coach backpack.
Congratulations Siliza for sharing your outfit with us. Everyone, you should follow Siliza on Instagram @TRIPPYXGYPSY