Just because there is a little snow on the ground, doesn't mean that you can't be stylish and warm this winter. All it takes is a little time, effort, and money to perfect your wardrobe for snowfall. So, if you are ready to hit the streets even with a little snow, this post is definitely for you!
Today, we had the opportunity to link up with one of our models, Kourtney.  She took some time out of her busy schedule to show the ladies how to dress appropriately in the snow.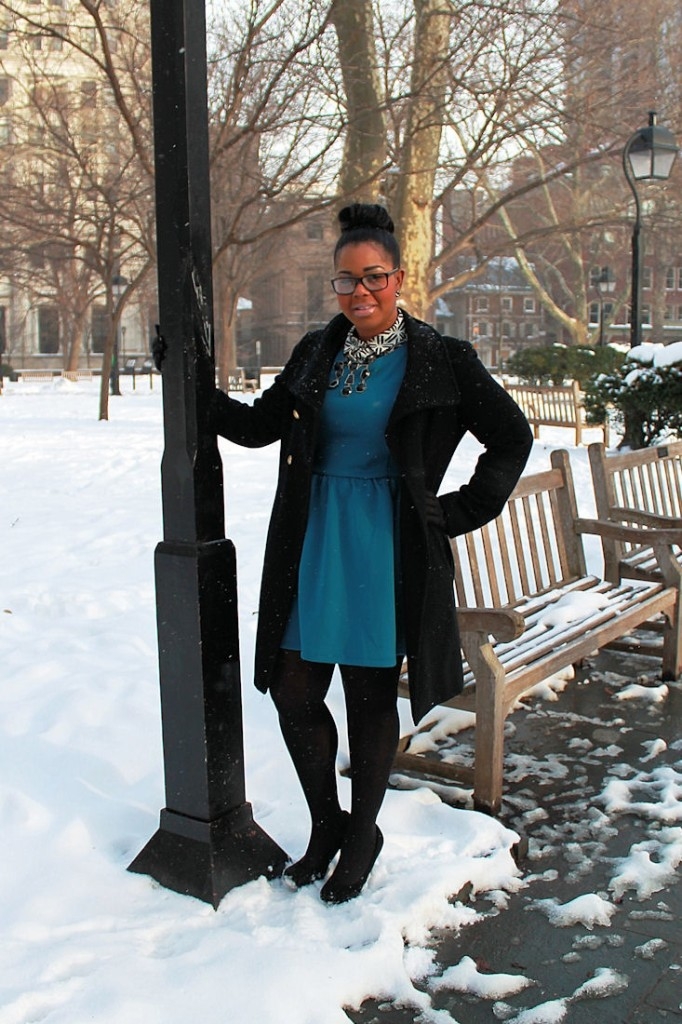 Any coat that is thick, warm, and trendy can be considered an "outerwear staple." This season, many women are sticking to the norms of winter fashion and wearing the classic pea coat.  These coats are traditionally made from wool and the style generally changes with each winter season. For instance, some pea coats can be purchased both short or long in length and in a variety of colors.
Ladies, if you are looking for the perfect pea coat this season, Overstock.com has provided four tips on how to find the right coat for you:
1) Keep it classic! Pea coats were designed to resemble the short wool coats worn by sailors in U.S. Navy, and the style has undergone very few changes over the years. The pea coat is considered a classic in the world of outerwear, so keeping your wardrobe simple and classic when you wear a pea coat will really let your coat shine. Wear your pea coat with tailored dress pants or jeans and a traditional wool sweater for simply classic appeal.
2) The long and short of it: A well-fitting pea coat should hit you just below the hip. This means that the women's clothing you wear with your coat should complement that length. When you're wearing a women's pea coat, avoid long tunic shirts and opt instead for a sweater that hits at mid-hip. Similarly, dresses and skirts should fall several inches longer than your coat. Knee-length dresses and skirts look best with a pea coat.
3) A flattering fit: Just as your pea coat should be the right length, it should fit you properly everywhere else. Choose a women's pea coat that fits you well through the shoulders and bust and wear your pea coat buttoned for the best fit. These double-breasted wool coats are designed to be worn buttoned and create a flattering shape when they are. If you're looking for a bit more definition, choose a women's pea coat with a tailored waist.
4) Accessorize with style: Keep your accessories simple when you are wearing a women's pea coat. Try a brightly colored scarf and pair of mittens with your outerwear for a stand-out look. Add a simple satchel handbag to carry your belongings. The key to accessorizing women's outerwear is to accessorize your coat and not the outfit you have underneath. Scarves, hats gloves and mittens should all be tailored to complement your pea coat for the best look!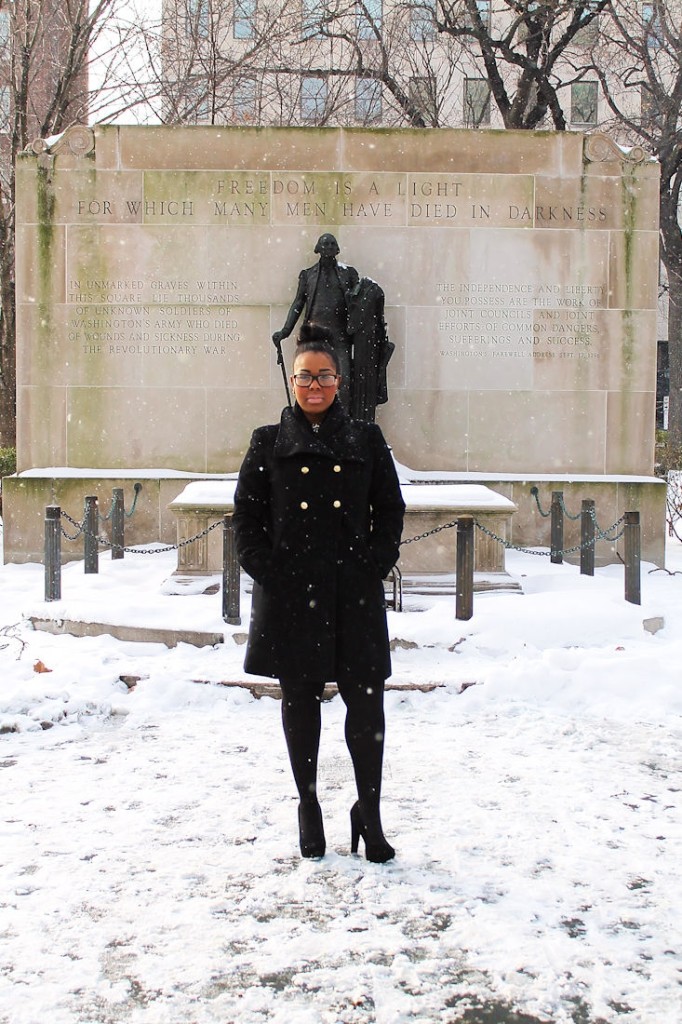 "I purchased each item from a variety of stores. The dress, necklace and earrings were purchased from H&M, the tights and Gloves were purchased from TJ Max, the shoes were purchased from Bakers, the Coat is from Nordstrom, and I am wearing Ralph Lauren glasses." -Kourtney
As mentioned above, pea coats are created to help protect your body from low, frigid temperatures. Another way to keep protect your body warm is by wearing clothing underneath your jacket. Can you imagine going outside with just a coat on with nothing underneath? That sounds like frostbite and pneumonia waiting to happen.
Now the garments underneath your outerwear deserve to be just as stylish as the jacket itself. For Kourtney, she decided to wear a brightly colored dress, stockings, and platform heels under her Ellen Tracy pea coat.
Lets take a little time to discuss her dress Kourtney has on a brightly colored dress from H&M (If you are ever looking for transitional pieces between work, head over to H&M. They have a wide selection of dresses to purchase in store or online.). By adding that pop of color, Kourtney can take some attention away from her jacket and shoes and draw more attention to the details within her dress.
"What I like most about this outfit is the mixture of a print fabric with a solid color. The pattern is black and white and the pop of color from my dress isn't too loud but just right for the winter season." -Kourtney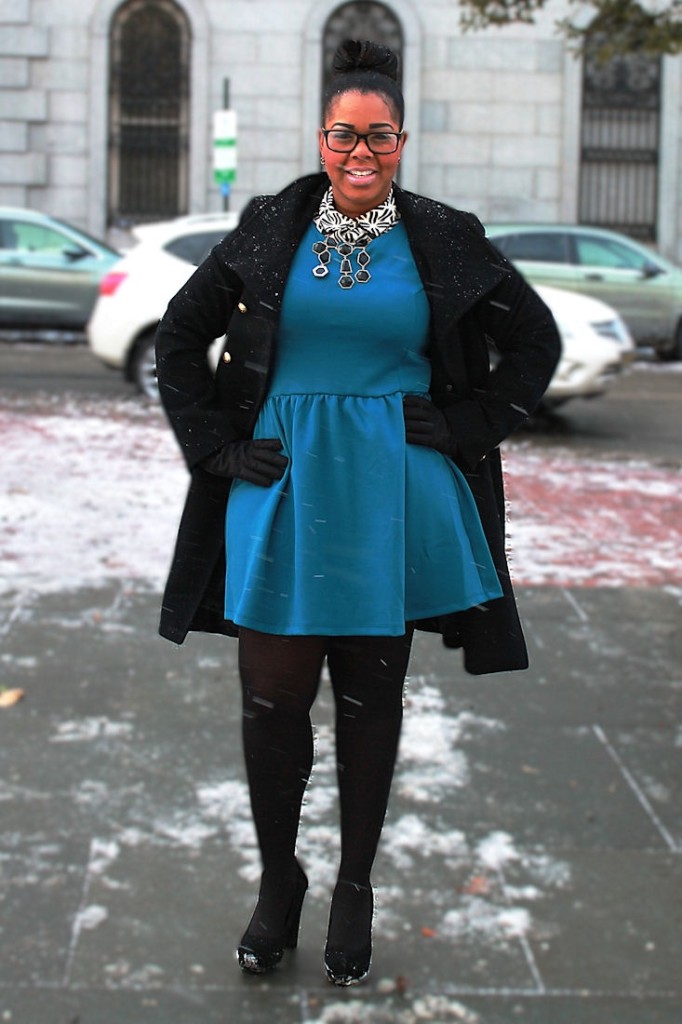 We would like to give Kourtney a big shout out for wearing heels in the snow! Most women would cringe at the thought of slipping on ice. Kourtney pulled it together for work and this shoot. For more looks from Kourtney, head over to her Instagram @kourtney_p