"Summer is the time when one sheds one's tensions with one's clothes, and the right kind of day is jeweled balm for the battered spirit. A few of those days and you can become drunk with the belief that all's right with the world." -Ada Louise Huxtable
Summer is the season of relaxation. We utilize summer the months for leisure activities. Think about every concert, festival, and vacation you have planned for the next three months.
Although our summers are spent attending concerts, festivals, and amusement parks, some of us never get to experience what the season has to offer.  For the general population that works year round, summer is just like any other season. While everyone else is outside enjoying the beautiful weather, some of us are trapped in the office.
If you want to learn how to beat the heat from within the workplace, look no further. For this feature, Bryce Lennon is back with a different take on business attire. Check out his look below.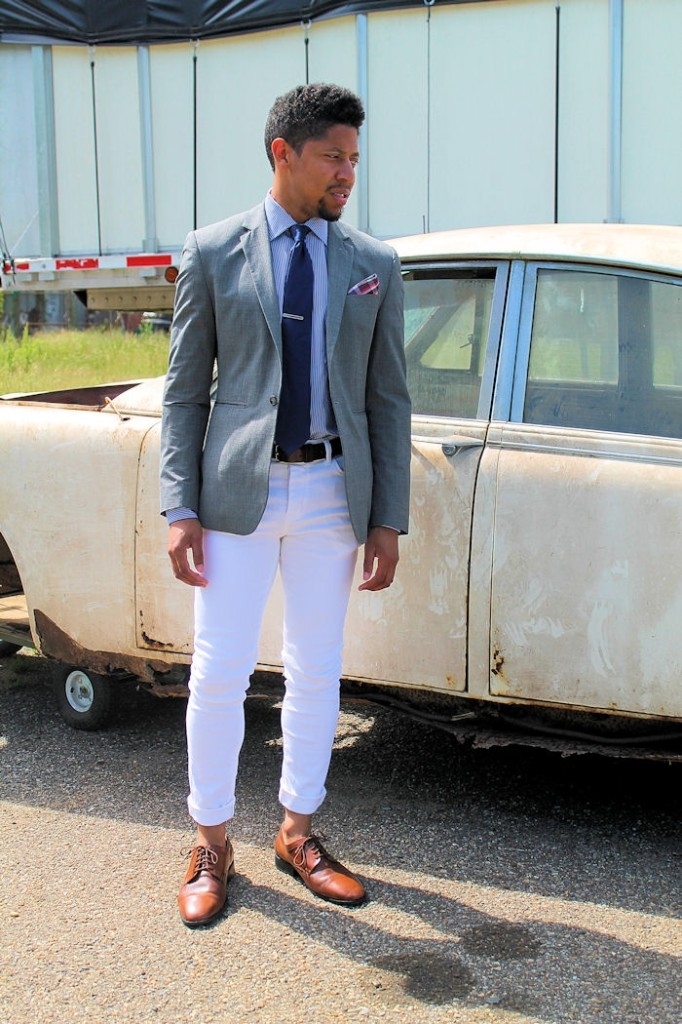 "As an educator, I can relax during the summer. School is over and its just me, the sun, and the pool. However, most of my friends work year round and they tell me their summer stories. It can be very stressful you spend an hour getting ready for work every morning for you to come home drenched a puddle of sweat" -Bryce Lennon 
If you are that individual who plans on working behind the desk all summer, you might as well express your personality through your wardrobe. Many corporate offices implement strict dress codes that are not meant to be broken.
As a result, we have to find a healthy medium between business attire and summer comfort.
"I like to try different things. So, the white pants were a win for me. I love the way the look with my blazer and button-down shirt." -Bryce Lennon
For Bryce, he is embracing the true essence of summer through his white pants.
White pants in the office?! This sounds really taboo.
Well, if you are daring fellow like Mr. UnregisteredStyle himself, you shouldn't have a problem getting away with this look in the office. In general, lighter colors absorb less heat. So, white pants are an alternative choice if you plan to beat the heat.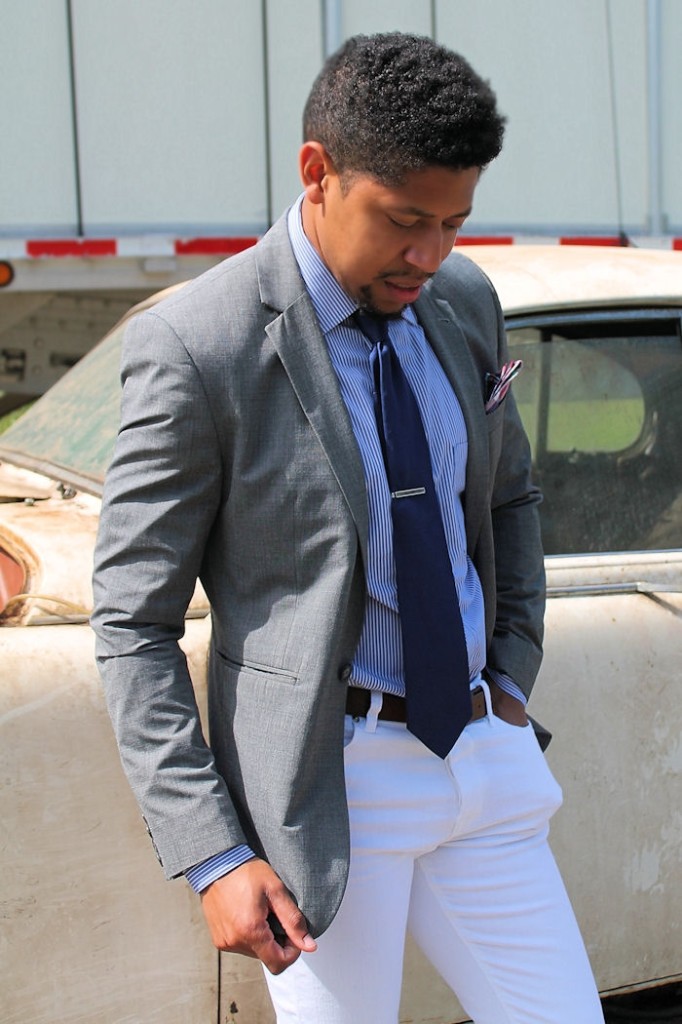 Bryce is fully aware that his pants are not the traditional norm in the work place. However, he still manages to look professional by combining his white pants with a gray suit jacket, striped button-down, navy necktie, and thrifted leather shoes.
He purchased each item from a number of stores ASOS, Macys, and Nordstrom.
If you would like more looks from Bryce Lennon, follow him on Instagram @Karmike.