We live in a society where a woman's attractiveness is determined by a variety of factors. For example, an individual is able to determine whether or not a woman is attractive by her woman attractive by how she presents herself both mentally and physically. Mentally represents her personality and the amount of self-confidence she exudes. The physical aspect relates to her outward appearance. More specifically, the way she looks and how she dresses.
Let's take a look at the day and life of the "Attractive Woman." Her look is very striking and knows how to dress. From the information provided above, we conclude that the Attractive Woman's wardrobe is defined her overall presence (Unless we are talking about sex appeal where clothing is the last option available). In addition, the Attractive Woman who desires the attention she deserves is expected to wear clothing that defines her look, figure, and curves appropriately. These clothes compliment her body shape. They can either be form or slim fitting depending on her body type.
Traditionally, society wants the Attractive Woman to stay away from baggier clothing. Wearing baggy clothes?! Who wants their body to look like an old sack of potatoes? Well if society and the Attractive Woman are still oblivious, she could find a way to look good in any type of clothing. The Attractive Woman could even look great in baggier clothes.
This leads us this post. We have our fall veteran model, Tatiana, and she is demonstrating how to wear an oversized sweater.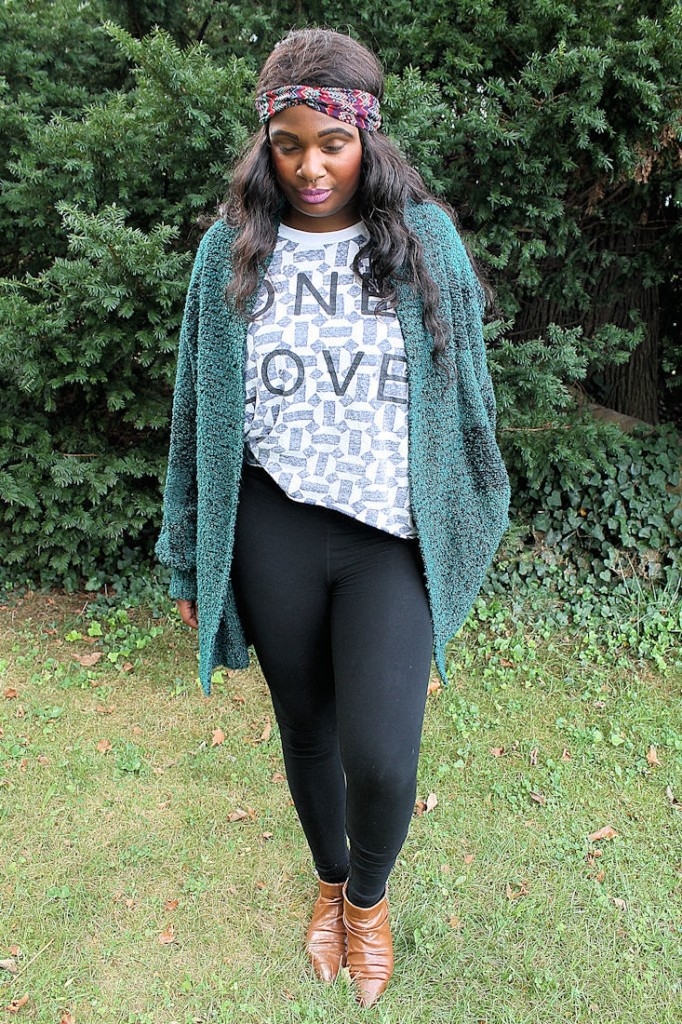 Women wear baggier and looser clothing for two reasons. First, it's very comfortable.  Who doesn't want to wear an over-sized, soft, sweater in the fall! Let's be honest, it's getting quite brisk outside and the over-sized sweater can act as a light weight jacket. Second, it looks good! Simply wear your over-sized top with a pair of skinny jeans, skirt, leggings, or shorts and you will have more attention than you asked for previously.
When considering baggier tops, you may not know how to wear them correctly. There are two things to consider when choosing baggier tops which are color and proportion.  If you are unsure about which colors work together, go for a more monochrome look. Darker neutrals tend to elongate and slim your overall presence. With larger tops, you should keep the bottom portion of your look more tapered.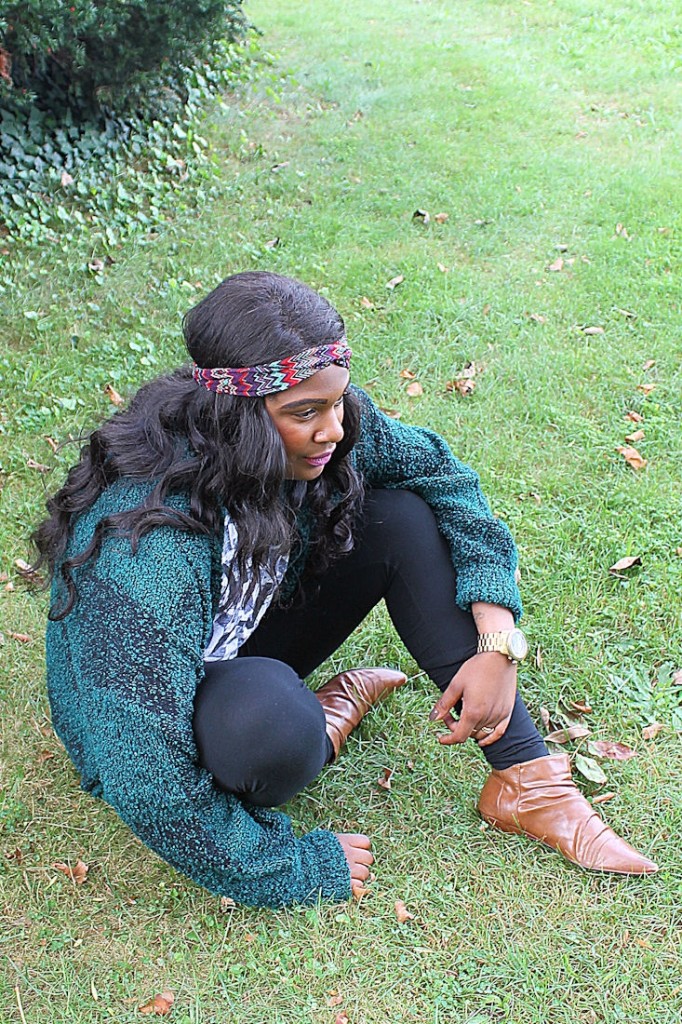 "This is a very casual outfit, a nice fall afternoon or even at night to just hang around in. I would wear this to a happy hour, very comfortable but also stylish." -Tatiana
Have you ever heard the saying, "The bigger, the better?" In comparison to Tatiana's over-sized sweater, the statement holds true. We love the sweater in general. The color adds to the neutral colors of black, white, gray, and brown found in her outfit. Tatiana states, "The sweater I am wearing is a perfect pop of turquoise."
In addition, the sweater is thick enough for both inside and outside. If you go outside, just button the sweater up to stay warm. If you are indoors, simply take it off and the outfit underneath looks just as satisfying.
The combination of the sweater, t-shirt, leggings, and boots complete Tatiana's Bohemian look. Tatiana states, "For a bohemian look, throw some tribal in there!"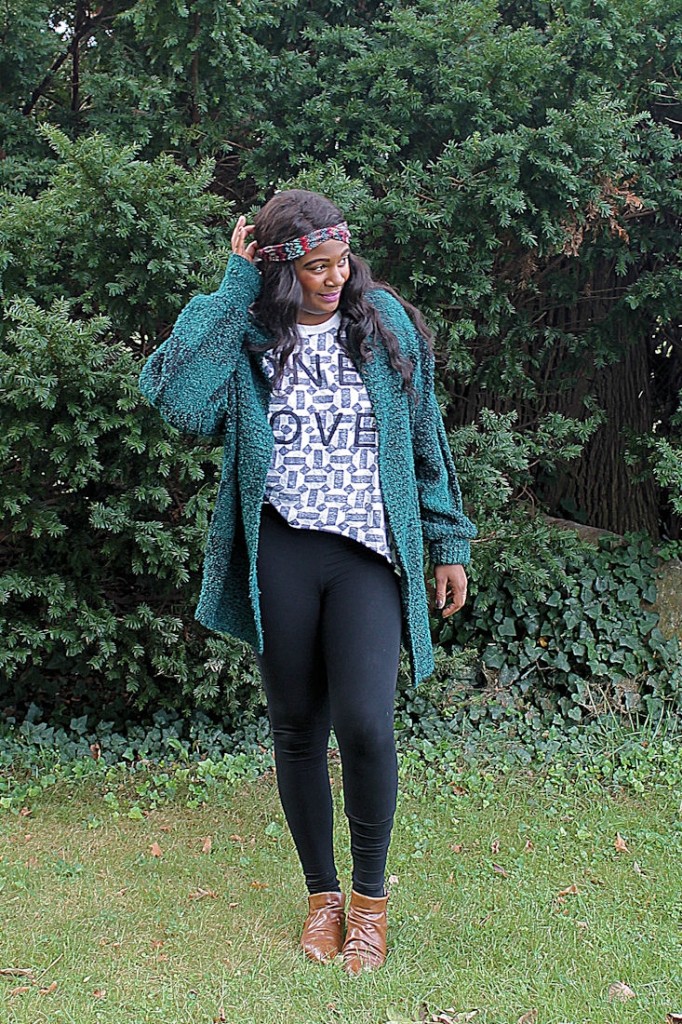 Each individual article of clothing was purchased from a variety of stores. These stores include Claire's, Forever21 and Goodwill. For more looks by Tatiana, follow her on Instagram @Tgabriel789 .