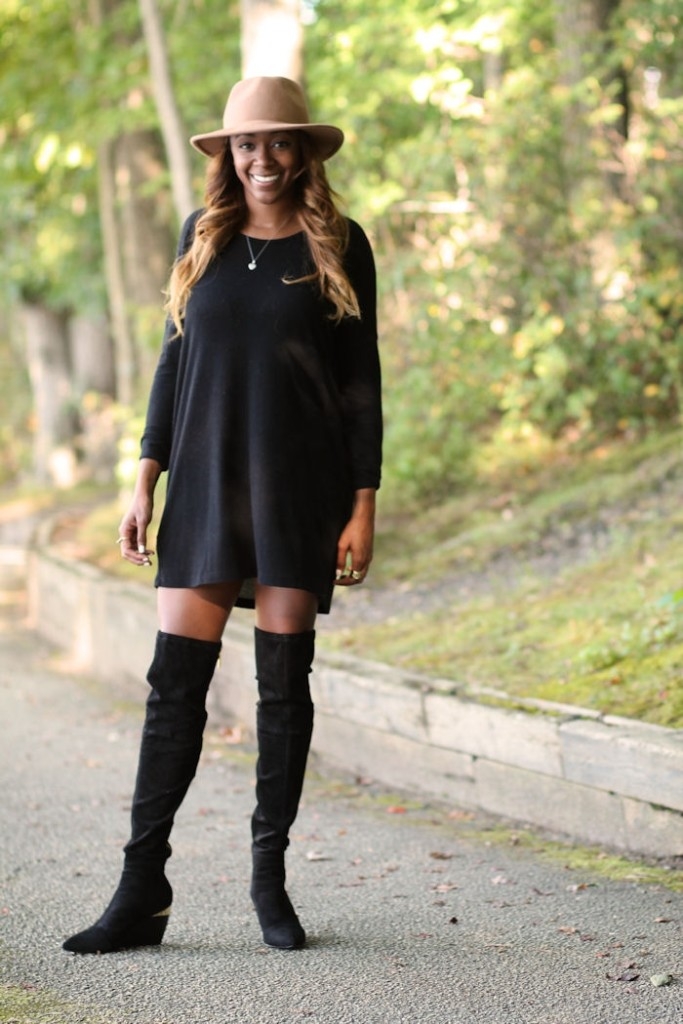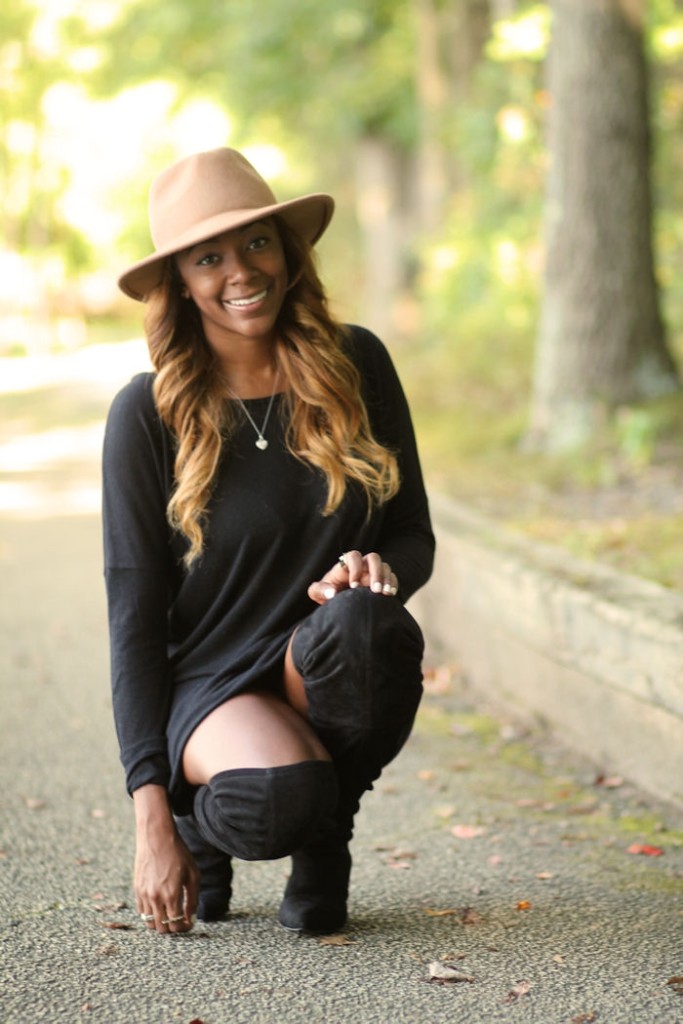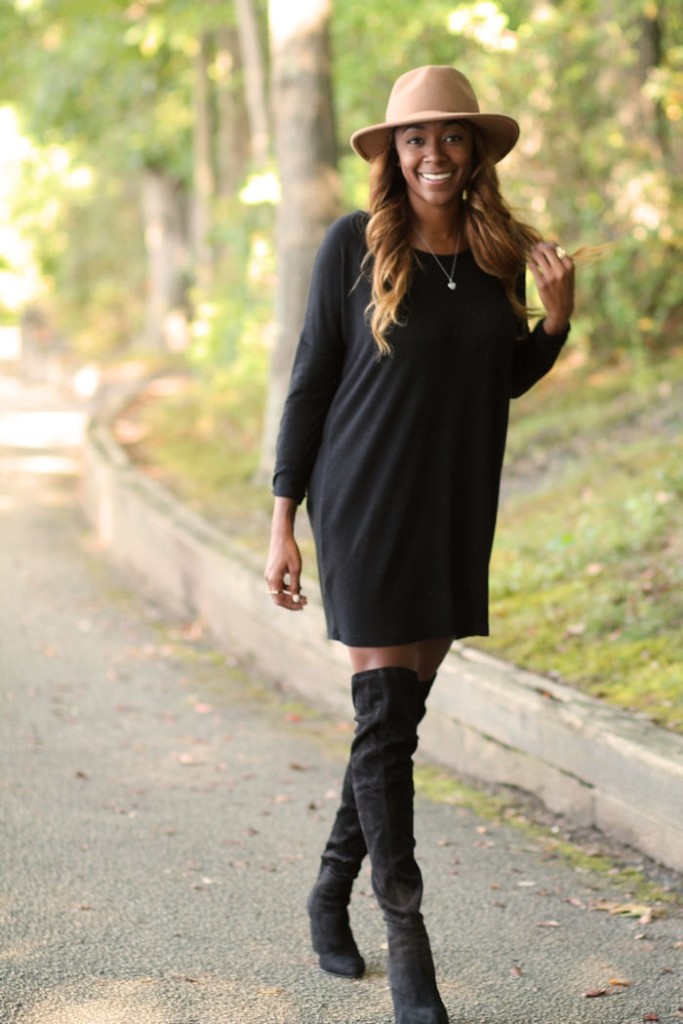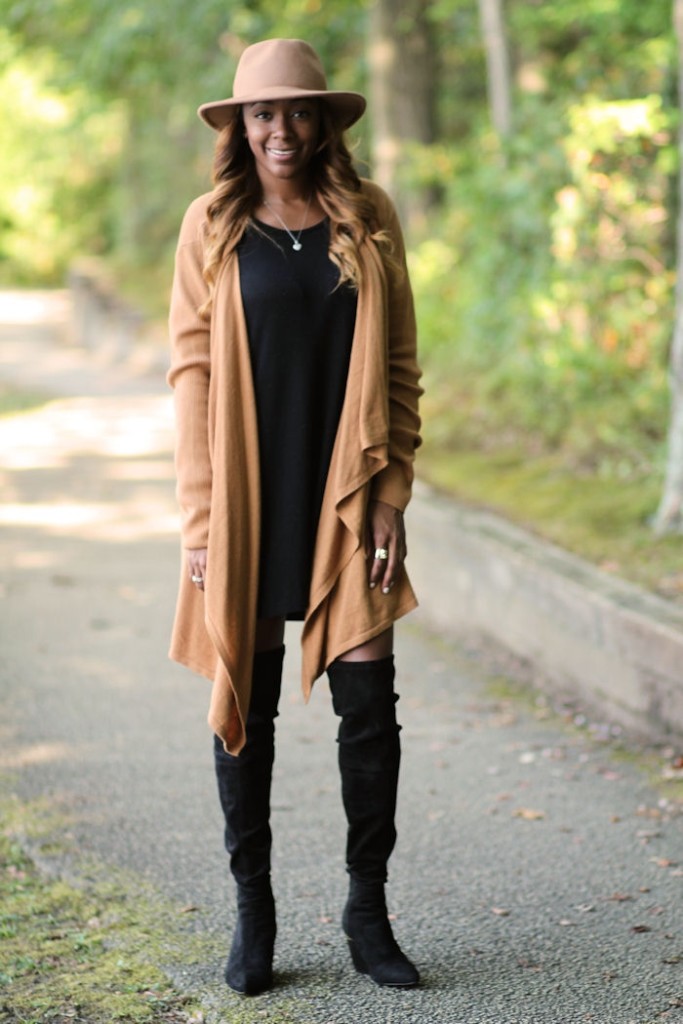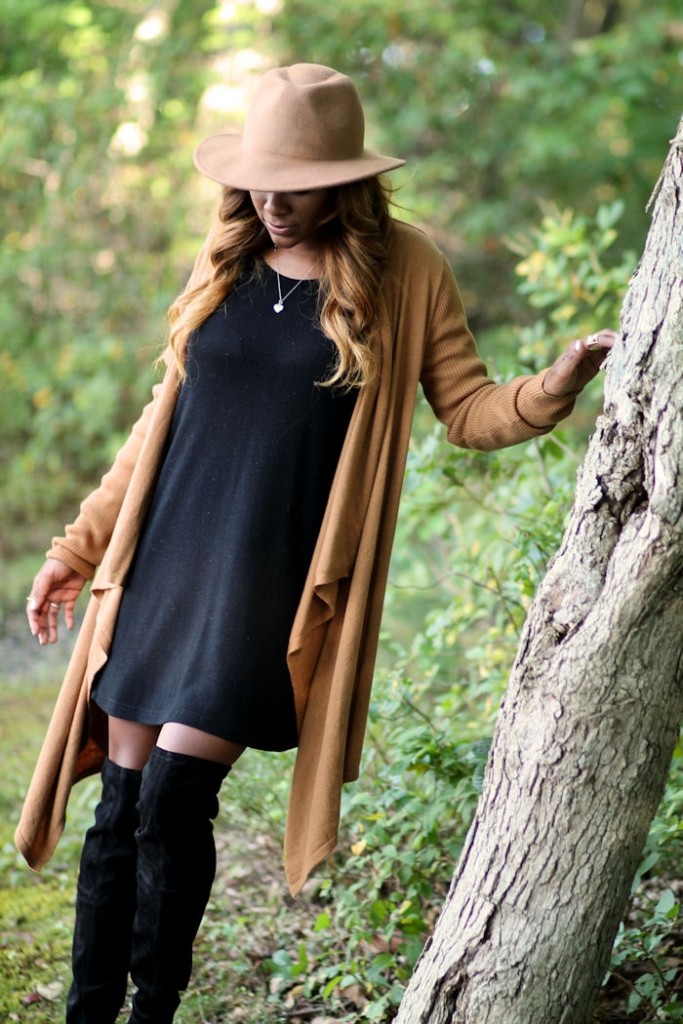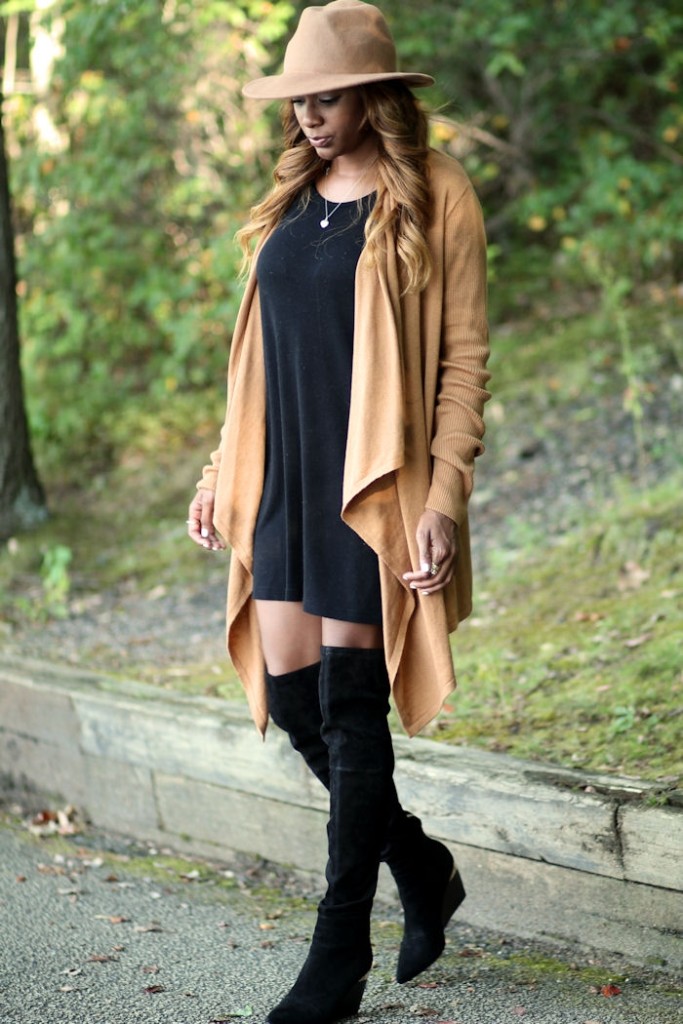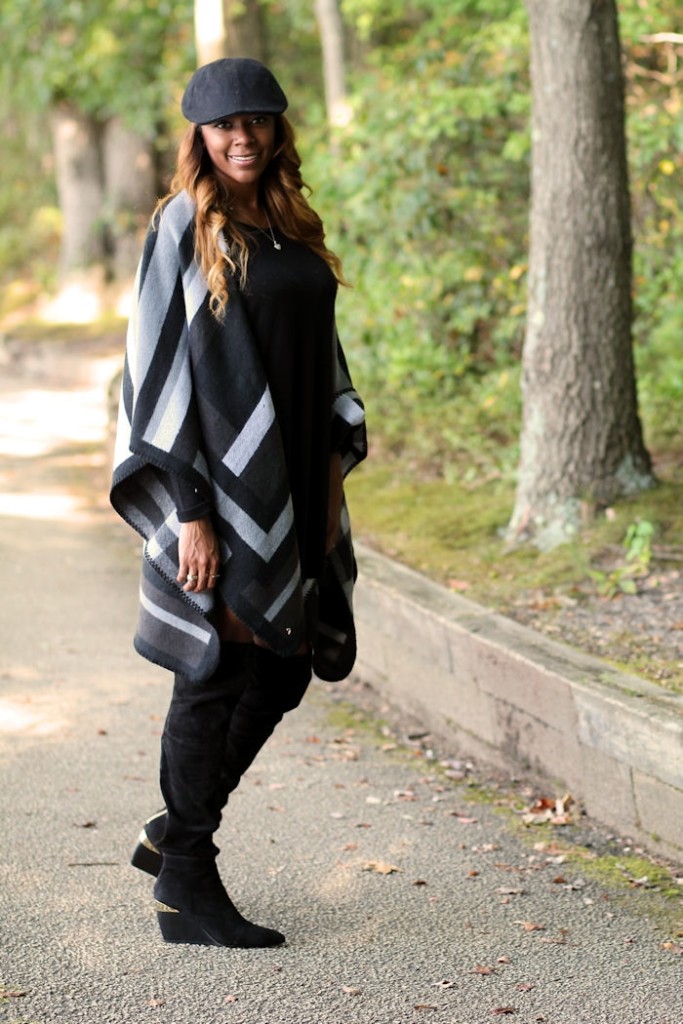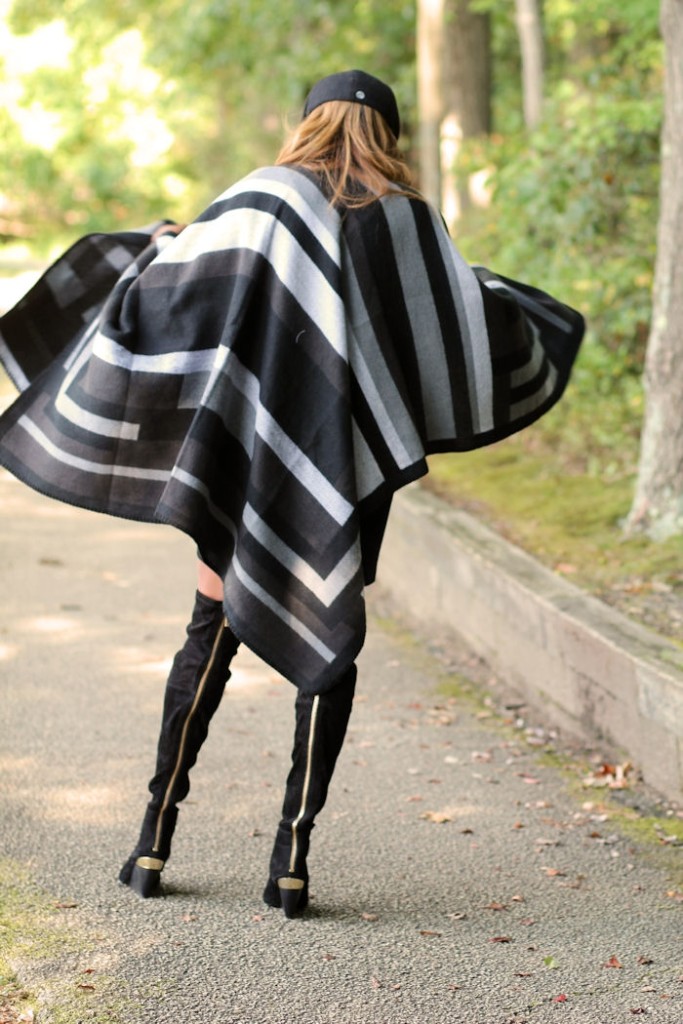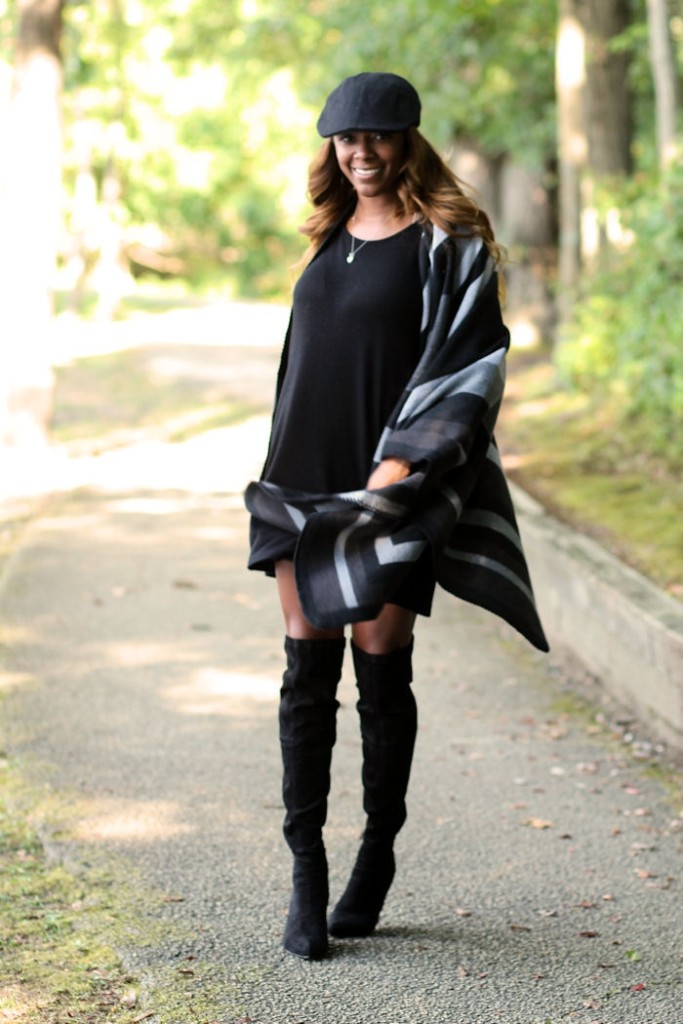 Dress: Mango | Boots: Rachel Zoe |
Fedora: Forever 21 | Cardigan: Nordstrom |
Poncho: T.J. Maxx | Cap: T.J. MAxx
For this week's individual style post, we decided to try something a little different. Recently, we had an opportunity to catch up with our girl Anotnia. Last time we checked with her, she was showing off her newly purchased Calvin Klein poncho.
Above, Antonia shows us how to dress up a simple black dress with a camel cardigan and striped poncho.
Every look starts with a foundation. This outfit consists of a black dress, knee high boots, and a wide brim fedora.
For a girl that loves wearing dresses, Antonia had this to say about her look, "I really like wearing dresses, and pairing them with knee high boots. It's the perfect look for the upcoming season!"
We can't agree more Antonia! This is a very chic look, especially since you can't go wrong with black.
Known to make everything it touches look expensive, camel is the perfect color to add to an all black outfit. In Antonia's case, she added her long, camel cardigan to the mix. Antonia actually enjoys wearing her sweater out and about. She states, "This is a look I would probably wear exploring or shopping in the city, or having brunch on a nice fall day."
The final additions to her look include a stripe poncho and black news boy cap. Based on our last feature with Antonia, you can tell how much the girl loves ponchos! This particular poncho was purchased from T.J. Maxx for a very reasonable price. Unlike the camel sweater, Antonia plans to wear this poncho during the evening. She says, "This a perfect look for going to the movies!"
Before she heads out, lets take a moment a discuss Antonia's knee high boots. Honestly, the gold plated zipper and heel on the back are very attractive to the eye. This little gold feature enhances the boots in every way possible.
So, which look is your favorite? Feel free to share with us in the comments section below.
Thanks for reading!