For this week's FEATURE FRIDAY submission, we have the pleasure of introducing Mr. Antonio Squire to the UnregisteredStyle family!
From the looks of his Instagram, Antonio loves to accessorize his outfits with a variety of items including neckties, bow ties, suspenders, and fedoras.
In no particular order, you may catch Antonio wearing a solid color or plaid bowtie in one post on Instagram. On another day, he may pop up on your timeline wearing a fedora or snackback inside the studio. If you're really lucky, he might be wearing a plaid bow tie and fedora with a pair of slacks, a button-down shirt, and solid color sport coat at the end of the week.
Now, we should take this time to examine how Antonio accessorized his FEATURE FRIDAY look below.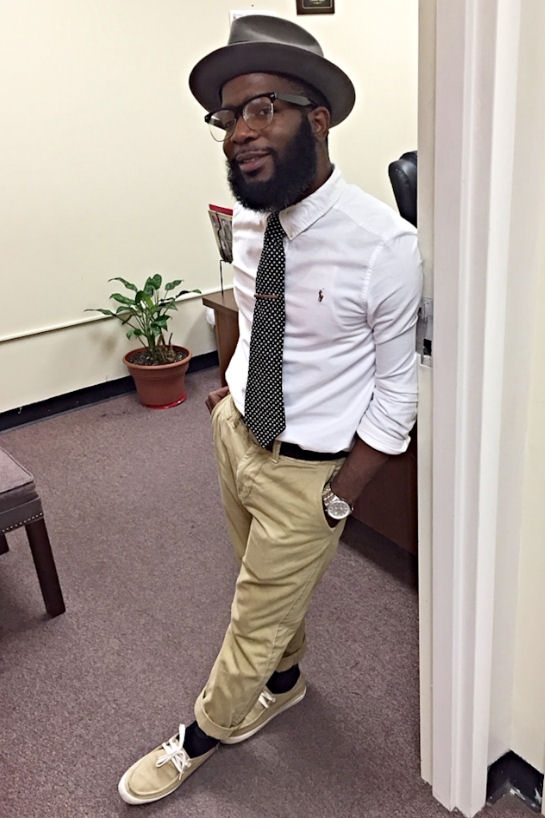 This week, Mr. Squire submitted an outfit that's perfect for the office. Honestly, you can never go wrong with a white button-down and khakis. A white shirt always looks great with a pair of khakis.
Now, if you want add that a bit of flare to your white button-down, try to add another print or pattern to the mix. For Antonio, he added in a polka dot necktie to his outfit. From the looks of things, this tie looks amazing against Antonio's crisp, white button-down. He further accessorized his look with a pair of wide framed glasses and felt fedora hat.
Overall, we love Antonio's look! Feel free to show Mr. Squire some love on Instagram @thee_twin.
Be sure to check us out next week for another FEATURE FRIDAY post!